Such is the intervention of Tracy Neumann, an Assistant Professor in the Department of History at Wayne State University in Detroit, in her recent book Remaking the Rustbelt: The Postindustrial Transformation of North America (Philadelphia: University of Pennsylvania Press, 2016). In the book, Neumann compares and contrasts the trajectory of two North American steel towns, Pittsburgh and Hamilton, Ontario, showing how de-industrialization was as much the result of a set of policy choices embraced by civic elites as it was a historical inevitability. Even before the decade of the 1970s most commonly associated with de-industrialization, policy elites in both Pittsburgh and Hamilton drew on a limited set of post-industrial urban visions as they sought to plot out what a city built more on services, rather than manufacturing—on briefcases than lunch pails—would look like.
Drawing on a number of city, provincial and state, and national archives in the United States and Canada, Neumann shows how in spite of a shared vision of post-industrial flourishing, the very different institutional settings in which Hamilton's and Pittsburgh's civic elites operated created a very different set of policy outcomes. Unfettered by federal or state restrictions, Pittsburgh's corporate leaders and Democratic mayors were able to rapidly transform their city into what they envisioned would be a Mecca for white-collar workers—causing, in the process, immense pain and dislocation for the city's actual, rather than desired, residents. In Canada, meanwhile, civic leaders in Hamilton aspired to a similarly service industry-oriented future for their city, but remained captive to provincial policies that channeled post-industrial growth toward Toronto. In Neumann's telling, the global structure of economic change matters—but so, too, do institutions and the menu of policy choices with which elected officials and corporate elites imagine themselves presented.
At a moment when many Americans and Canadians, and other denizens of a North Atlantic Rust Belt are posing the question of whether the move from pig iron to management consulting—or, for many, from stable lifetime employment to a McJob—Neumann's book comes as a welcome entry into the conversation. More broadly, however, Remaking the Rustbelt provides an example of how Americanists are writing urban history in a transnational and global key. Readers interested in what, exactly, the relationship of post-industrialism to "neoliberalism" in the United States will find much of value in Neumann's work, but so, too, will scholars studying how processes of global change find their way to the ground across regions through the grinders and gears of policymaking. That makes it a valuable contribution whether the pair of cities one is interested is Pittsburgh and Hamilton, El Paso and Ciudad Juarez, or Mumbai and Dubai. The Executive Director of the Toynbee Prize Foundation, Timothy Nunan (TPF), recently had the opportunity to sit down with Tracy Neumann (TN) to discuss Remaking the Rust Belt, some of the arguments of the book, and what she has in store following the June release of her first monograph.
•
TPF: Tracy, welcome to the Global History Forum.
TN: Thank you. I'm delighted to be here.
TPF: Tracy, could you tell us about where you were born and raised? Did you have any interest in becoming a historian as an adolescent?
TN: I grew up in Traverse City, Michigan, which was then an agricultural community in the northern part of Michigan and is now a big resort area. Michael Moore has moved up there and has a film festival, there are lots of cherry farms and cherry farms that have been turned into vineyards, and it's very pretty. I didn't have much interest in becoming an American historian in my youth; I wanted to become a journalist. Where I did have a historical interest was Russian history, in particular late imperial Russian history. I had read Robert K. Massie's Nicholas and Alexandra in high school, which got me interested in Rasputin, whether the Royal Family was actually murdered, and conspiracy theories about the Romanovs. Fortunately, I eventually got over that!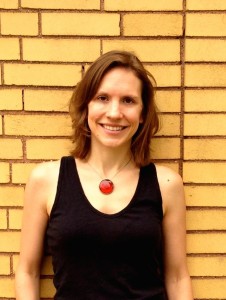 TPF: Still, you had some exposure to history even before entering college. Where did you do your undergraduate work?
TN: I went to the University of Michigan to be a journalism major, but they eliminated their journalism program the year I that I arrived there. They told me that I could consider transferring to Michigan State, which still had a journalism program, or that I could think about switching majors. I ended up majoring in History, but only after some negotiation. I wanted to be a Russian Studies major, but my grandparents, who were paying for my education, laughed very hard at that idea. As a result, I ended up majoring in History and Russian Studies and pretended that I would be going to law school after that. That was my alibi.
TPF: And that satisfied them?
TN: It did. There was only one problem. It turned out that I really sucked at Russian. I found the language very difficult, and the only way that I passed my third year of Russian, which I had originally taken as a summer course, was by spending most of the next academic year writing enough make-up papers to earn, effectively, the B- I needed to get credit for that course. I managed that, but a very nice man who taught that course advised me that I should probably not try to move forward with my Russian language skills. So that was the end of that. I ended up writing a thesis on the Beat Generation, and I still wasn't sure whether I wanted to be a historian at that point.
TPF: So, as you approached graduation, what were the options?
TN: Well, as a child, I had wanted to be an architect. A friend asked me: "Have you ever thought about conservation? You like history, and you like architecture, and that combines those two." I thought that sounded like a good idea, so I took a year off and worked here at a language school on Newbury Street in Boston. I took that time, too, to apply to graduate school, which led to me going to Cornell, where I did a Master's in historic preservation. Once I finsihed, I returned to the Boston area, where I worked in Needham and lived in Jamaica Plain for a few years, working as a consultant for an engineering firm that had a cultural resource management arm. However, I got to the point where most of my projects had ended up being government and military projects. Over time, however, I grew a bit tired of researching topics that I had relatively little personal interest in and no choice over. Once I got to that point, the idea of doing a PhD came back.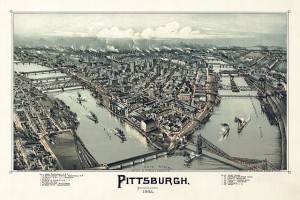 TPF: When you were doing this work in historic preservation, was post-industrialism a theme that you encountered in your projects?
TN: Yes, absolutely, although the term "post-industrialism" was not really present. When I was working, and even when I started the project, I thought more in terms of de-industrialization. That was a much more commonly-used term, especially in the places where I spent my time; Michigan, upstate New York, and Pennsylvania. I don't even remember what I thought I would do when I applied to NYU—perhaps a study of social housing—but these landscapes were in the back of my mind when I applied to graduate school. How did de-industrialization happen? Who was responsible? I had a thought, perhaps naïvely in retrospect, that planners and government officials would want to halt de-industrialization if only they had the right histories to draw the lessons from. That turns out not to be particularly true, but once I abandoned the idea of writing about cooperative housing in the 1920s and 1930s, I started thinking about what else I might do. With the experience of historic preservation in the background, I had those places and landscapes in the back of my mind that I could return to.
TPF: You went to New York University (NYU) for your graduate education, and studied with Thomas Bender. How was that a formative experience for you, and how did you come to work on your topic?
TN: Firstly, I'd like to say that Thomas Bender is a terrific mentor. Probably everyone thinks they had the best advisor ever, but I really did. He cares about graduate education more than anyone else I've ever met. Bender would never push a topic on you, but when I started grappling for what I would do, he was encouraging people to think about transnational topics, and that's how I ended up going in that direction. When I was at NYU, from 2003 to 2011, Bender was writing A Nation Among Nations: America's Place in World History, so this was certainly in the air.
As far as my topic goes, I recall going in to Bender at some point and saying that I thought I wanted to write about de-industrialization. I had read Thomas Sugrue's book, The Origins of the Urban Crisis for perhaps the third time, along with other classics in urban history, but I felt that these books left something out. Much of the then-existent literature stopped its narrative around 1968, but at the same time, a lot of the work in sociology on developments from the 1970s onward did not seem sufficiently historical to me. I thought that there might be room for a historian to see what happens in the landscape of de-industrialization, especially after the late 1960s.
TPF: Here those landscapes of Michigan, upstate New York, and the sites you had worked on in the context of conservation.
TN: That's right. In any event, Bender thought this sounded like a good idea, but suggested that I look beyond the United States. He initially suggested that I look at Russia, because he thought that I could read Russian and I was doing Russian history as a second field for my graduate exams. Bender told me, "Ah, but you'll be viable, since you have these language skills!", but of course I don't, actually!
TPF: Which gets us to the question of how you came to choose Canada—a place that's foreign from the U.S., obviously, but where the prospects of comparing and contrasting are rich, since it's more similar than Stalingrad or Magnitogorsk.
TN: Right, not to mention that I wouldn't have been able to read anything [in Russian]! As I thought of how to conceive of the project, I thought that I wanted to find an industry that was central to the national economy. I knew that I wanted to look at cities, but I wanted to do it in a way that would illustrate broader national and transnational processes. Initially, I thought that the auto industry in Canada and the US would be good. However, I quickly realized that the auto industry in Canada is what's called branch plant production. In other words, it's heavily dependent on the US industry. It's similar to the relationship between Mexico and the United States. So, that seemed rather limiting. At the same time, I was attracted to the idea of doing something on the US and Canada, having spent a lot of time there. I thought about England and other Anglophone countries, and I wasn't quite sure what the project would look like.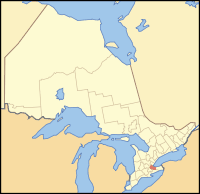 TPF: And then fate intervened.
TN: Yes. As I mention in the Acknowledgements to Remaking the Rust Belt, I have to credit my husband for the central axis of the book. We had started dating in New York, and the time came to visit one another's families. He had grown up in Pittsburgh. His parents are English, but they met in Hamilton, Ontario, where his father was getting a degree in metallurgy from McMaster University. They got married there, then moved to Pittsburgh. So, they had sets of friends in both places.
TPF: But the trip to visit your grandmother in Michigan had to continue westwards.
TN: That's right. As my husband and I continued westward to see my grandmother in Michigan, we looked at a map and discovered that Hamilton and Pittsburgh are good halfway stops between New York City and Traverse City, in both directions. It was perfect, since we started this trip with me thinking that using Detroit as a case study wasn't going to work, but then we ended up visiting these two steel towns, and the people we stayed with drove us around and told us similar stories about Hamilton and Pittsburgh. And it was interesting, because both of those couples were upwardly mobile people from working-class backgrounds. So they had, I think, a unique trajectory of growing up in these places with family and friends who worked in the mills, and seeing them shut down, but working white-collar jobs themselves.
TPF: So that was the personal route to the history of these two cities. Tracy, in Reconstructing the Rust Belt, on a nuts and bolts level, what kind of archives and sources did you use?
TN: Firstly, I should say that my sources ended up being very asymmetrical, that is, favoring Pittsburgh. One reason why is that institutions like the Allegheny Conference have a very strong sense of themselves as durable institutions, and it has a great archive that is donated to the Heinz History Center. Hamilton doesn't have that kind of counterpart, nor was there the same diversity of civic groups.
Pittsburgh also had a number of working-class solidarity and protest organizations that maintained records, seeing themselves as important forces. They kept their papers, they donated their papers to the University of Pittsburgh, and so on. The papers weren't yet processed when I was there, but I could see them and work with them.
TPF: You also make use of interview collections in the book.
TN: Yes, the University of Pittsburgh sponsored a local government oral history project in the 1990s. By the time that I got around to accessing that, a lot of these people were long dead. I had great access to these oral histories that someone else had done with people like David M. Roderick [the head of U.S. Steel], and that was a phenomenal set of records. They conducted these interviews at the right time. It was far enough away that Roderick wasn't interested in acting as if U.S. Steel had no idea what was going on and had no choices about what to do when steel declined. Rather, by 1999, he was simply proud of himself for having saved the company.
One other thing that I would like to say is that in both Pittsburgh as well as Hamilton, I didn't have particularly good access to the planning files, individual files. One reason why, though, is that planning agencies don't take very good care of their own archives.

TPF: Why is that?
TN: Well, often these records seem to be destroyed after a short timespan, or they simply stay in what are, after all, functioning governmental offices. There are similar problems for mayoral files, so I didn't have access to mayoral archives for [Pittsburgh Mayor Richard] Flaherty and [Pittsburgh Mayor Peter] Caligiuri. Having worked in New York archives, where the files of the Mayor's office are stored and catalogued, I entered Pittsburgh thinking that the same would be possible. It wasn't! So, I ended up with public documents—planning reports that had been deposited at the University of Pittsburgh, and thank God, the activist groups had collected a lot of documentation. This was helpful, because you're not getting into the corporate archives: US Steel, you're not getting into the J&L [Jones and Laughlin Steel Company] collection for this time period, that's just not happening.
TPF: You mentioned that access to sources was asymmetrical between the two cities. What made sources more difficult for Hamilton?
TN: Unfortunately, in Hamilton, I ended up much more reliant on newspaper clippings than I would have liked. Part of this was because the Hamilton Public Library had collected clippings on urban renewal and so on, saving me the chore of working in microfilm. Hamilton, moreover, had two municipal consolidations, and each time they conducted a municipal consolidation, they contracted and literally cut down the archive. I could find references in the archives to City Council meetings relating to topics I was researching, but they would tell me that these records had been destroyed. It was maddening to know that this stuff had been destroyed.
TPF: And this isn't ancient history, let's remember.
TN: No, not at all! The last consolidation was in 2001, and they apparently destroyed a lot of material at that point!
TPF: To zoom out from this discussion of sources and methodology for a moment, let's imagine that someone is writing a similar history, on, say, the Sun Belt, on Dallas and Houston, and reading this. What lessons would you offer someone plotting a similar comparative urban history? Or a transnational urban history?
TN: One of the things I wish had known going in was that the information would be so asymmetrical. I had this ridiculous expectation that there was a uniform way that local governments collect information. That, needless to say, turned out mistaken, and I'd advise graduate students to determine what the archives actually look like as soon as possible, or ask themselves how they will change their research plans if one city's collections turns out to be rather haphazard.
Secondly, to the extent that you can find any kind of collection where someone was collecting information on local government from the outside, that helps a lot. In both Pittsburgh and Hamilton, there were faculty at the university who were doing research on the city, and I could turn to their papers and find a tremendous amount on urban development through those. Several archivists saved me in suggesting I turn to those. So, follow the government watchdogs, whether they're in citizens' groups or university departments.
Thirdly, pray that someone did oral history. That's frankly a reason why the book tilts toward Pittsburgh. There's just so much more information on Pittsburgh, and for Hamilton, it's hard to find this stuff.
TPF: Federalism, of course, is an important theme in the book's argument, but it also seems like it must have affected your research strategy. I imagine that you would have to spend a lot of time navigating not only Hamilton's archives, but then also time in Toronto, in the provincial archives. There, however, the way a Canadian provincial government collects information isn't necessarily aligned 1:1 with your research needs. You end up having to spend a lot of time reading across different ministries and agencies.
TN: Right, and the ministries and agencies keep changing, too … in fact, that's a way I got to information about Hamilton. The provincial government did a lot of studies that included Hamilton, the political situation there, and so on. Many of these were mediated by the province's political concerns, but at least you have some information. In that way, the provincial archives in Canada were much more important than the State Archives in Pennsylvania. However, both the National Archives in Ottawa and the Provincial Archives in Toronto follow a declassification policy whereby almost everything I wanted had to be reviewed, since the period in question was so recent. It's not as bad as using the Freedom of Information Act for files in the United States, but there's a mandatory review process in Canada, making it more difficult compared to what I would needed to when I looked at, say, the Department of Housing and Urban Development files at the US National Archives.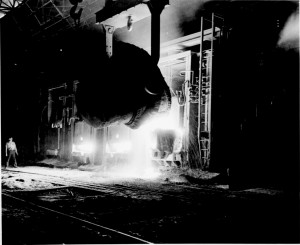 TPF: Moving on from methodology to some of the themes in the book, one major theme in Remaking the Rustbelt, for me, at least, is the question of agency when it comes to de-industrialization, and the post-industrial condition. "Who is responsible?" might be one way to put it.
Now, let me pose a straw man about how post-industrialism happened, and perhaps you can explain how Remaking the Rustbelt challenges that. Let's say there's the ghost of history that comes through the North Atlantic Rust Belt, it hollows out Leeds and Sheffield and Pittsburgh. But there's no agency involved. This has to do with globalization, this has to do with a billion Chinese peasants entering a global labor market, a few years later, the same with a billion Indian peasants. This is all just a giant historical inevitability, and there was nothing anyone could have done. The Ghost of History then moves to the Sunbelt and retires. So, that's the straw man, and it was my intuition heading into this book. Everything is structure, nothing is agency.
How is this wrong? How are actors in Pittsburgh reacting to these structural conditions by making conscious choices?
TN: Well, I like the ghost of history, but you forgot the labor unions, those damned labor unions—
TPF: Ah, yes, the bloated, hopelessly inefficient labor unions.
TN: There we go. Seriously, though, this is a common narrative and we have to take it seriously as a widely-held popular narrative. And it makes it easy for no one to have to take responsibility for plant closures and the devastating effect they have on cities and therefore not do anything about it. Well, that view is just wrong. It's wrong on all scales. The U.S. government heavily subsidized steel production in Germany and Japan during these years. U.S. banks begin investing heavily in steel in places like during these years instead of regionally.
TPF: So, not only globalization, but new business models.
TN: Exactly. You have these macro-level structures, sure, and they're important, but there are people making decisions, too. This is a time when you get new business management models coming out of the Harvard Business School. It used to be OK for steel companies to make a 6% profit. By the 1970s, however, everyone thinks they have to make a 20% profit or they're no longer being responsible to shareholders. There's a sense that there's this irrevocable drive for profit in the market, but the idea of what "profit" means, and what sacrifices are needed to achieve certain percentages, changes in the 1970s.
TPF: And how you achieve that profit means something else than doubling down on investments in the Mon Valley.
TN: That's right. The 1970s and the 1980s are when you see US Steel buying oil companies, real estate companies, and building shopping malls. They briefly change their name to "USX" to de-emphasize steel. You have corporate decision-making in that way.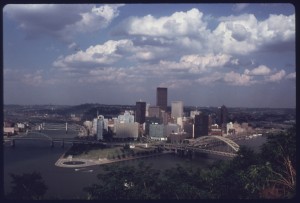 TPF: All the same, they are looking out onto a world that's changing in terms of steel production competition, no? They still have this inherited industrial base of plants built in the 1920s and 1930s, and it's going to be expensive to modernize them …
TN: They do. The writing is on the wall for local planners and regional planners, and they're tied into this corporate power structure. Everyone knows what's going on, and you see lots of studies about it. They don't use the term "post-industrial society" until Daniel Bell popularizes it, but they know that the North American steel industry will be hit hard—this is something corporate elites and civic leaders note in both Hamilton and Pittsburgh in the late 1950s. So they appreciate this while it is happening, but the advice they get from organizations like the Allegheny Conference is that they need to make the transition happen faster—that they need to usher it in. They're not necessarily interested in doing it the least harsh way for the workers, although you'd think that that would be the case for Democratic politicians.
TPF: Looking at the list of mayors, it's striking that both Flaherty and Caligiuri in Pittsburgh are Democrats. To intersperse, one thing I find very helpful about the macro-narrative here is "neoliberalism." As you say, there are multiple distinct processes going on in the 1970s and 1980s. The fact that USX is going to Brazil may be connected to the IMF. But it seems that for historians, it's really important to break up this ideological formation into how it looked from Pittsburgh, from Hamilton, from this local level of urban space in North America. For someone who's not necessarily interested in the specifics of US history, that's a big contribution—to get beyond the neoliberal bogeyman.
TN: I think this is important. The way I talk about neoliberalism improved, I think, between the dissertation and the book. I remember my committee reading the dissertation and asking why I didn't call Mayors Flaherty and Caligiuri neoliberals, but the point is that they're not. They're not reading Friedrich Hayek—
TPF: They're not card-carrying members of the Mont Pelerin Society.
TN: Exactly. They don't even know what the term "neoliberal" means, at least not until the 1980s. These are New Deal Democrats, or more accurately Jimmy Carter-style Democrats rejecting New Deal ideals because they don't see them working. Someone like Flaherty campaigns as a populist, but he ends up imposing an austerity program. He's doing it, however, not because he's against unions, but because he sees himself constrained. This doesn't change the fact that unions are upset over this, but I don't think "neoliberal" is the right appellation here. He comes into the office and sees fifteen empty desks that belong to Joe's uncle. Pittsburgh still runs like a 1920s patronage machine. He doesn't want to destroy these people—his father was one of these people.
TPF: So this isn't Naomi Klein. Peter Flaherty isn't imposing austerity on Pittsburgh as part of a concerted scheme to starve the state and turn it into a blank slate for business interests.
TN: Right, but what interests me here is that the outcome is still the same. So I think that we have a lot of local stories, where you have people doing these things that are actually attached to the neoliberal project, without having any ideological understanding of that. They feel like they have circumscribed options, and they say, "Well, this worked for New York, so let's do this." But often times, the fiscal landscape is very different for these cities beyond New York. The regulatory and political landscape within the state or the province is very different. It's a moment where you see cities around the world looking at New York, including Hamilton, Ontario.
TPF: Indeed, a theme of the book is the way in which both fiscal models and advertising models circulate through urban networks, among civic elites during the 1970s and 1980s. Just think of the I❤NY campaign, which you discuss in the book.
TN: Yes, and the context in which these models arose is lost once they circulate. A model developed for New York isn't necessarily going to fit for Canada, much less for a European city. Often, local governments are very constrained in the kinds of tax benefits they can grant. So what do you do when you copy a city's model that was based on tax breaks?
TPF: Well, this is part of the race to the bottom phenomenon we see between states today. Still, to turn to the heart of the book, could you explain to readers what the Allegheny Conference was, and what Renaissance I and II were? Why do they matter for our understanding what happened in Pittsburgh or post-industrial North America?
TN: Of course. The Allegheny Conference on Community Development is a civic organization founded during World War II by Richard King Mellon to promote development in Pittsburgh. It's not a formal partnership with government, but it itself a partnership of Pittsburgh's most influential industrialists, who during World War II were the world's most influential industrialists.
Their goal, to use the words of my colleague Patrick Vitale, is "to make Pittsburgh safe for capitalism." The Allegheny Conference looks at the state of Pittsburgh following World War II, and the overall tableau is bleak. There are housing crunches. There's significant pollution problems, and there are pictures of Pittsburgh in the 1940s where it's black at mid-day. People would have to change clothes at lunch time. So, the Allegheny Conference works with David Lawrence, the Democratic Mayor of Pittsburgh at the time, and the Allegheny County Commissioner, to push through the so-called Pittsburgh Package at the level of state government. This allows them to take things by eminent domain, and it allows a large urban development project called Renaissance I to go through. Renaissance I is of major importance and is appreciated as such at the time. It's widely studied by visiting delegations as an example of how industrial towns could implement urban renewa.
TPF: What was the result of this?
TN: Renaissance I did real violence to the city, but also had real results. It targets African-American and low-income white ethnic neighborhoods for demolition, there's a lot of property taken, the Hill District becomes a seminal battle for urban renewal, when African-American housing is cleared for a hockey rink. What the Allegheny Conference, these Republican elites, do working with Democratic mayors is to remake the city in their interests. That's the first round. You get the complete renovation of downtown, the construction of several major skyscrapers, and we should not dismiss this as smoke and mirrors. The Golden Triangle is cleared, and indeed there's very little smoke by the end of it all, as pollution improves substantially. They attract new businesses and get rid of low-income housing.
TPF: To interject for a moment, one thing I found fascinating reading this, is that it's not "just" a blow-by-blow account of urban renewal. You show the consequences this has on cultural life, and even the ways in which this delegitimizes certain kinds of social protest.
TN: Well, much of the cultural transformation happens to Pittsburgh during Renaissance II, the successor plan to Renaissance I, but that's what I was about to discuss.
TPF: Of course.
TN: For background, almost all of Pittsburgh's museums were in the Oakland neighborhood, near University of Pittsburgh and Carnegie Mellon, until the late 1960s and early 1970s. Now, Renaissance II gets its name when Mayor Richard Caligiuri comes in in 1977, but I argue that it's underway as soon as Renaissance I stops, which is roughly 1969 when the last stone is laid in the skyscrapers going up downtown. You get a pause under Mayor Peter Flaherty, but I argue that it's he who is helping redirect things toward this post-industrial model.
With Renaissance II, you get much more of a focus on cultural institutions, because the concern now isn't just making the existing corporations happier to be there, or making it cleaner, or making people want to stay in the city, but it's that corporations are leaving, and competition for new industry is intense, and competition for white-collar workers is heating up. The idea is that if you want these white-collar workers, you need to have the institutions to furnish the cultural activities that those workers like to do, which is go to museums, go to sporting events, and go to certain types of restaurants and bars. One result is that you see a decentralized cultural development away from the core of Carnegie-built institutions that was located in Oakland.
TPF: And as they're doing this, they're not only making investments themselves, but also co-opting others' cultural endeavors, too.
TN: Yes, and one example of this is the Mattress Factory, an old Sterns and Foster warehouse purchased by artists as live-work space in the mid-1970s which she then turned into a contemporary art museum. And initially, the city's boosters are not very excited about this, whereas the Warhol Museum, which was built nearby a little more than a decade later, was a Dia Art Foundation project, and it was part of the city's formal cultural strategy. But at the same time, City officials and the Allegheny Conference start to think about how they can harness cultural development like the Mattress Factory, which is not something they initially wanted, but is of course very similar to what was going on in New York. They think about how they can take credit for it. So, they begin to incorporate smaller arts-based development into their plans not in the sense that they fund it, but that they start promoting it. They rhetorically start to take credit for institutions like the Mattress Factory, this independent venture, as well as the Andy Warhol Museum, something sponsored by foundation money.
TPF: Not only museums, but also neighborhoods of the city, as you show.
TN: Right, the same thing happens with the South Side neighborhood, which becomes a classic case of gentrification. It's very art-friendly, with a lot of antique stores and artists. The Mayor's office wants to take credit for that in spite of starving that neighborhood for funds for years. But the moment that see cultural development as something that benefits the city, they take credit for it. They still do this today vis-à-vis the Lawrenceville neighborhood. It's not gentrified by Cambridge standards, but for a long time the city didn't talk about Lawrenceville at all, but now it's very prominent in its promotional materials about arts and culture.
TPF: A lot of these developments, this turn away from industry, are obviously hurting a lot of workers in Pittsburgh. More than that, though, these corporations have become less and less territorial, in that their profits may come from steel mils in Japan or Brazil rather than Pittsburgh. What motivates people and corporations to stay in Pittsburgh at all? Why doesn't everyone just move to Texas or Arizona?
TN: I never have a good answer for this, but only a speculative one. They talk a lot about civic responsibility, which I think is insincere. I don't think anyone is investing in Pittsburgh because they feel obliged to, and their investment patterns reflect that. However, a lot of these companies had built landmark buildings, and so even though their manufacturing presence was declining, their corporate presence was there. Now, we should add here that U.S. Steel moves its international headquarters to New York, while Pittsburgh remains only its hub for national operations inside the United States.
So people do leave. But they also recognize what they can get a lot out of the city to stay. It's also not clear whether or not cities like Phoenix were trying to lure them. If they've invested a lot of fixed capital into their white collar functions, and Pittsburgh is relatively cheap, and they're getting handouts every time they threaten to move the white-collar functions, then it doesn't really matter that people are angry when they dissolve their blue-collar workforce in the city. But I'm not sure if anyone is trying to lure them away.
TPF: Right, and perhaps having invested so much ideological energy into this vision of white-collar workers enjoying urban culture, it's somewhat difficult to turn around and say that you've moved to an office park 100 miles outside of Houston. Tracy, you mention protest a lot in the book. What kinds of groups are protesting against the Allegheny Conference and firms in Pittsburgh, and what are their demands?
TN: I'd like to say something about Hamilton briefly here before I discuss protest in Pittsburgh. Hamilton has a much stronger union movement, and it still has mills much later. So there isn't too much to say about labor protest in Hamilton. They have many strikes, of course, but these are about bread and butter issues like wages and collective bargaining, not against shutdowns per se. They still have contracts to negotiate. There were plenty of workers involved in neighborhood protests, but there were few extra-union workers' organizations dealing with urban development. I don't find much evidence of that in European examples, either.

TPF: What about protest in Pittsburgh?
TN: There, the picture is different. In Pittsburgh, you see several groups of workers who are organizing outside of their unions, because the international unions are so accommodationist and concerned with preserving the most jobs possible, that they are very quick to negotiate the best deal they can around that—even if it means that individual cities like Pittsburgh or regions like the Mon Valley are hammered. But you have a lot of radical workers in Pittsburgh. Pittsburgh had been a hotbed of Communist workers' organizing in the 1920s, the electrical workers in particular are quite radical, you had the Homestead local, a local U.S. Steel workers' union.
TPF: But for the 1970s, you look at some very distinct groups protesting the policies of the Flaherty and Caligiuri administrations.
TN: I do. I look at the Tri-State Conference on Steel and the Denominational Ministry Strategy (DMS). The latter is my favorite to talk about. These are both groups of workers, a lot of steel workers, but you get people in other unions, too, organizing outside of their unions. They are not organizing against particular plant shutdowns, but rather against de-industrialization in general and against what I call post-industrial redevelopment as a strategy for urban regeneration. These issues get linked in interesting ways, especially with religious groups. Tri-State works with Pittsburgh's labor priest and Catholic organizations in the vein of Catholic labor organizing. DMS has an organizer who was trained in Saul Alinsky's Industrial Areas Foundation, and they work with radical Lutheran ministers with churches in the Mon Valley who see their parishioners suffering. You have this religious background, and while I wouldn't call either Tri-State or DMS religious, they are bringing a moral argument to the table.
TPF: What are some of the differences between these protest organizations?
TN: One should start off by noting that the two don't work together, and they don't like each other. DMS is more radical in some ways, while Tri-State wants to use the structure of the Allegheny Conference and the city against them. They want to form a civic organization that can take property and re-industrialize things. Whereas DMS is making a much more paternalist argument—they steel companies have a responsibility to these communities that they are abdicating. So you get visible, potent protests that are covered nationally by the New York Times or Washington Post.
TPF: What form did the protests take?
TN: Denominational Ministry Strategy in particular did spectacular labor actions like going into bank vaults and depositing dead fishes in safety deposit boxes, or spraying skunk oil in banks' lobbies. But they were very focused on tying plant closures and corporate disinvestment to banks and regional disinvestment, and to these urban redevelopment plans. They very clearly saw what this power structure looked like and what it was doing. We might like to think it would be academics who saw this, but it was the workers here who really understood how power worked in the city. DMS is a bit too out there for many people in Pittsburgh because they do things like interrupting children's Christmas pageants, organizing protests in upscale neighborhoods of Pittsburgh, and so on. They disrupt the narrative of Pittsburgh's rebirth and the idea that service sector jobs and white-collar jobs are a bright future.
TPF: —they disrupt the idea of Pittsburgh as this white-collar city with people in ethnic costume dancing on the weekends, as you show in some of the illustrations to Remaking the Rust Belt, depicting the promotional materials that the city uses to present itself to make itself attractive to white-collar workers and corporate relocation.
TN: Right, as I show in the book, this is one of the aspects of Renaissance II, this marketing of white ethnics and Pittsburgh's ethnic heritage as a selling point. "Look at what a diverse place we have! Look at how black people aren't burning down our city! This is a nice, safe place for white people and the black middle class!"
Now, of course, they don't talk about what happened when Martin Luther King died, and this is all being marketed in quite nefarious ways, when you look at the racial politics critically. But the mayors and the businessmen are so annoyed by DMS because it's so disruptive to this kind of image. They really want to divorce Pittsburgh from the Monongahela Valley. They want to talk about Pittsburgh the city, and Pittsburgh's suburbs. They want to pretend that those mill towns don't exist anymore, as if they're one hundred miles away instead of on the other side of the city line.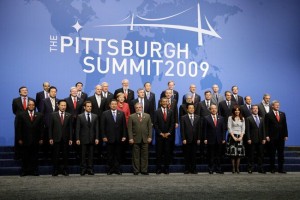 TPF: It's paradoxical, isn't it? Many of these companies are becoming much more diverse and international. And the regional banks are trying to have a more national reach. There's a globalization of capital, but it's paired with this fantasy that Pittsburgh doesn't have a hinterland.
TN: Right, "Pittsburgh is a world city" … but it doesn't have any hinterland. It's important to remind ourselves that state and national banking laws change. It's important to remember, too, that many of the activists involved in movements like Tri-State and DMS were also very engaged in protests against the Reagan Administration's support for right-wing governments in Central America, or US support for the apartheid regime in South Africa. They are looking much more globally than a lot of trade unions—this is of course a big problem with unions, that they look very locally, at precisely this moment when production is rapidly globalizing. It's hard to organize workers across borders, and ultimately neither the mainline unions nor alternative movements have the power to disrupt these changes.
TPF: Which is part of why both they, as well as the non-union protest movement break down.
TN: They do break down. Denominational Ministry Strategy doesn't have a lot of popular support, they don't have union support, a lot of the leaders are purged from their positions, many of the ministers are defrocked. It's really quite horrifying, but for five years they are a real thorn in the side of this growth coalition.
TPF: Do any of these groups like Denominational Ministry Strategy speak in terms of a "right to the city" or a "right to urban space"? Or is this a later concept?
TN: I think this is a later development. The main concept that they are working with is corporate social responsibility, as well as the idea that "these are our tax dollars." The idea of the right to the city is perhaps there, but the language they use is more about human rights and civic rights and political rights. Protestors may have thought in those terms, but they spoke in financial terms. This was a big refrain: "our labor, our tax dollars, our city. We might live outside of Pittsburgh, but our labor built it, and you owe us." These ideas that we would later dub as being part of "a right to the city" are there, but the discourse is quite distinct.
TPF: So, by the mid-1980s, Pittsburgh has undergone this transition. But Hamilton has remained more industrial. Why is there such a divergence?
TN: Pittsburgh is a success story from the point of view of the mayor, but Hamilton is in many ways a more successful story of keeping an equitable city, at least until the 2000s. But the things that let Pittsburgh do what Pittsburgh does are the Allegheny Conference, and this wealthy foundation sector that has a mandate to invest locally—Hamilton doesn't have that. Canada doesn't have that. Hamilton has a Chamber of Commerce, but that's a different kind of organization. Hamilton still has strong labour unions, and the steel companies themselves don't want to shut down the mills. There, the key factor is the province, which engages in centralized planning for both land use and industry and puts a lot of constraints on what politicians at the local level can do to attract businesses.
TPF: The idea that a "regional city" like Hamilton can seek to upgrade its shopping options to draw in customers from that part of Ontario, but that it essentially can't pursue post-industrialism as a conscious policy, since that would encroach on the role already ascribed to Toronto.
TN: You know, one of the things I find striking is that planners aren't very good at their own history. Every fifteen years, they commission a new study that provides that same findings as fifteen years ago. Hamilton, over and over again, hires consultants to give them advice to do things like Pittsburgh, but they can't do it because of institutional structures. There's very little incentive for a civic organization to emerge beyond the Chamber of Commerce, because there's nothing for them to do. The Mayor can't do anything for them. You have a much stronger sense of centralized planning in the province, whereby Toronto is supposed to be the growth node and Hamilton is supposed remain a sub-regional and industrial center, rather than a hub in its own right with strong services. Hamilton doesn't like that, and the boosters don't like that, but they can't do that much, because they don't have room to operate. They can provide serviced land, but they can't provide tax incentives. They don't have a big promotional budget, and it's my sense that if they tried to do what they really wanted, they would quickly be cut off at the knees by the provincial government.
TPF: I think this is all really helpful, because it shows how there are global structures, but there are also national and provincial structures that really affect how global forces—our "Ghost of History"—makes its presence known in Pennsylvania and Ontario. The book does, I think, a good job, reminding readers, especially those not familiar with U.S. history, why these rather dry-sounding topics like the New Federalism, or Pierre Trudeau's regional policy and the rise of the Canadian West are essential to understand 1970s globalization and de-industrialization. These policies make a big difference to how much global shocks translate to the local level.
TN: Indeed. One of the things I hope to write about in the next project are the international consulting firms that carry these conceptual models around, but often without thinking about the policy frameworks that you just mentioned. And they end up creating the Richard Florida problem—it does look like a flat landscape. You end up with cash-strapped local governments investing a lot of time and money and energy and limited resources into buying these models, essentially, that they can't implement. This, when perhaps they would be better setting up a worker training program or something less flashy.
TPF: So, we ask, "who is responsible?", but there's a broader tragedy of planners and elected politicians looking for solutions and sometimes getting suckered into these models vended to them, but which are not appropriate for their communities.
TN: The history of planning is fascinating for me in this regard, when we think about the way that desperation and amnesia interact. In the book, I kind of blame planners and I blame mayors, but I would stress that these aren't bad people trying to devastate communities. They're dealing with a tough set of circumstances and trying the best they can, but they are often blind to the context of the model they're buying or selling. No planner goes out and says, "I want to impoverish people and devastate communities," and indeed, for much of the 1970s, advocacy planning is a big movement. But as we discussed earlier vis-à-vis Democratic mayors, the actions of these elected officials and the planners do end up causing a lot of suffering.
TPF: You mention the rise of Daniel Bell's thought, and the ways that his concepts are repackaged and sold. I think what's also very helpful about the comparison you set up in Remaking the Rust Belt is that you're not just reifying the narrative of Pittsburgh's success through a comparison with Youngstown. By making the comparison transnational, but within a defined region, this becomes much more about bread and butter policy changes, rather than inevitable global structures and "we had no other choice."
TN: One of the things I am hoping the book will achieve is exactly that. In many ways, Canada looks like the United States to Americans. It doesn't seem like a foreign place. I always thought that if I had taken France, or even England, as the place to compare, readers might say, "Ah, well, it's just so different, there's no use comparing it to the United States." I hope that the proximity of the Canada component shows how a place that is reasonably similar, culturally and politically speaking, can have a different set of outcomes with a different set of policies.
TPF: And, a set of politics on a local and provincial level. We're not just hapless victims of economic globalization. The way that we federalize or don't federalize polities, and the ways in which federalization has substance, matters.
TN: Not only that, but it's important to vote in those local and provincial elections, too.
TPF: As we speak, Remaking the Rust Belt is about to come out, but to ask a premature question, what are you working on now?
TN: I have been working on my next project, which is provisionally entitled The Urban International: Design and Development from the Marshall Plan to Microfinance, this year at Harvard. It developed very much out of some of the things I wish I could have done in the first book. What interested me the most was how models circulate and the kind of work that they do. So, the next project will look at how these models circulate outside of North America and Western Europe. As I have begun my research, however, I have also had to devote time to coming to terms with the development literature, and trying to bring that in harmony with the literature on urban development. Now, I'm certainly not the first to do this—look at the work of Nancy Kwak, or Amy Offner, or [previous Global History Forum interviewee] Daniel Immerwahr. I want, however, to not look at a particular policy area like housing or community development but more at the international system of how these models circulate through universities, foundations, and national and city governments.
TPF: What kinds of sources do you draw on for this?
TN: Fortunately, being based on the East Coast and in Boston specifically has already afforded me a lot of choice in terms of archives. While in Cambridge this year, I have been working in the archives at Harvard, MIT, and hopefully the World Bank and the IMF, if they let me in. I'm looking at the Rockefeller and Ford Foundations, and I just returned from a research trip to the UNESCO archives in Paris. Generally, I am interested in how these models were incubated in Western contexts, but then got legs and traveled around the world. At the same time, there are models that were developed in the Global South that came back to Western Europe and North America, which isn't the trajectory we usually think about.
TPF: As a card-carrying member of the "middle-class intelligentsia," I think here of so-called "night markets" or Arabian "souks" being vended as signs of New Urbanism in North American settings.
TN: Right, they're settings where you can buy John Robshaw sheets and feel like you're imbibing in some Asian or non-Western culture. In any event, I mentioned international consultants, and I hope to examine them in a chapter in the book. New towns are another theme that interest me, and there's a whole host of questions that would have been possible for this first book on Pittsburgh and Hamilton, but I ultimately opted to table those for the second book. Another way to put this is that Remaking the Rust Belt looks at one particular model, namely post-industrialism, in specific places, and in The Urban International, I hope to look at lots of models traveling, with less grounding in one place or another. Of course, I am now confronting the usual issues of narrative structure and keeping things manageable, but that's not uncommon.
TPF: What books would you recommend to readers interested in the questions raised by Remaking the Rustbelt?
TN: There have been a few terrific new histories of post-industrialism. Allen Dieterich-Ward has written on Pittsburgh in its regional multi-state context and Chloe Taft has written about Bethlehem, PA, while another scholar, Andrew Highsmith, looks at Flint, Michigan, through the lens of metropolitan capitalism. Now, those books are not transnational, but I would say they are the cutting edge when we talk about deindustrialization.
I think that urban history is an area where the transnational field is booming, and one place we can see evidence of that is at this year's annual meeting of the Organization of American Historians, where there was a roundtable on "Transnationalizing Urban History." For readers interested in transnational approaches to US history with an urban component, I think that Nancy Kwak's book is amazing. I enjoyed Daniel Immerwahr's book a great deal, and Rosemary Wakeman has a new book out on the global history of New Towns, which I look forward to reading. I also look forward to Amy Offner's book when it's out. Chris Klemek has written a transnational history of urban renewal, and Carl Nightingale's great recent book on the global history of segregation is very much an urban history. So, there seems to be a lot of positive energy in the field at the moment.
TPF: It sounds like it!
TN: A good example of this is Lily Geismer, at Claremont McKenna, who has written a wonderful book called Don't Blame Us, on suburban politics in Boston and the national reorientation of the Democratic party. That book follows the metropolitan history model, but her new project, which looks at how and why the Democratic Party embraced market-based and privatized solutions to inequality, in part delves into micro-finance. And that's pushing her abroad. I'm not sure if she expected to end up there, but she's looking internationally because she's following her sources. Lily's work is, I think,  characteristic of a trend toward incorporating transnational components into projects that otherwise adopt a local or national framework Earlier, scholars might have performed comparisons of specific programs or ideas between localities inside the United States, but there's recently been a very rich turn to see how urban space in the United States is often connected, or at least comparable, with spaces abroad. Americanists are thinking across scale, in other words.
•
As our interview with Neumann shows, there are few better examples of how scholars of American history are "thinking across scale" than Remaking the Rustbelt itself. Whether one's interest is in the concrete history of what happened to North American cities in the 1970s and 1980s, the ways in which corporations and foundations often play just as important a role in the governance of urban space as mayoral offices and planners themselves, or how viewing the Rust Belt transnationally affects how we understand the intersection of global forces with concrete policy choices, they will find much to discover in Neumann's account. We congratulate Tracy Neumann on the publication of Remaking the Rustbelt, and we know that we are not alone in following her eagerly as she pursues her ongoing research agenda on "the urban international."