https://www.nationsonline.org/oneworld/map/Sydney_Opera_House.html
Tiger Zhifu Li, University of Technology Sydney.
Helen Pitt, "Why we all won lottery the day the Sydney Opera House opened", Sydney Morning Herald, September 28th, 2023,
After 50 years, the Sydney Opera House is still a marvel of 20th-century design- and Australia's global calling card. Opera House is an icon for Australia today, and Sydney has become an international city.  
Stephanie Yang, and David Shen, "Young Chinese adults cannot find work.  Now many have a new job description: 'Full-time Children'", Los Angeles Times, September 28th, 2023,
With unemployment rising in China, some young people are opting to become professional children, paid by their parents to stay and help out at home. Critics call it 'gnawing on the elderly'.  
Matilde Cazzola, Max Planck Institute for Legal History and Legal Theory.
Andrew Fitzmaurice, King Leopold's Ghostwriter: The Creation of Persons and States in the Nineteenth Century (Princeton: Princeton University Press, 2021)
In his latest book, Andrew Fitzmaurice reconstructs the intellectual and legal biography of Sir Travers Twiss (1809-1897), who, among others, was a marriage and ecclesiastical lawyer; Professor of Civil Law at Oxford; a leading international law theorist; and, later in his life, he helped the King of Belgium, Leopold II, reformulate the principles of international law in order to argue that his dominium in the Congo, established by the King in his private capacity and soon turned into a theatre of widespread atrocities, could be considered part of the European system of colonial dependencies in the African continent. By recounting the interpenetration of the personal and the professional in Twiss's life and contextualizing the notions of international law within his specific biographical experience, Fitzmaurice's book promotes a reconsideration of the allegedly supra-historical and universalist values of international legal thinking.
Arnaldo Testi, I fastidi della storia: Quale America raccontano i monumenti (Bologna: Il Mulino, 2023)
This book is a timely and critical contribution to the current, heated debate around monuments and statues being discussed, contested, and sometimes spray-painted and torn down around the world. By reconstructing the "life" of a few monuments in the United States in the context of the country's history and society, Arnaldo Testi questions the role of monuments midway between collective memory and public worship. The author also reconsiders accusations of "cancel culture", asking whether it is not monuments which, sometimes, conceal important historical facts in order to promote specific self-representations and narratives. Horrors from the past will never stop haunting us and, the author suggests, studying and knowing history appears to be the only way to be no longer troubled by its "annoyances".
Paola Rudan, Woman: History and Critique of a Polemical Concept (Leiden: Brill, 2023)
Paola Rudan's latest book investigates the history of the notion of "woman" from the early modern period to the postcolonial age, treating it as a social and political concept always characterized by semantic struggles fought around its definition. By analysing the works of several women thinkers who appropriated the concept and challenged its patriarchal meaning, Rudan shows, on the one hand, how sexual difference was historically equated with political inequality, and how this produced an inconsistency within the allegedly universal scope of the main notions of Western political thought. On the other hand, the author delves into the hierarchies predicated on racial difference, class inequality, and cultural disparity which still create inner divides and fragmentations within the very same concept of "woman".
Joseph Satish, University of Hyderabad.
Maxime Polleri, "Our Contaminated Future", Aeon
The author writes, "In Fukushima, communities are adapting to life in a time of permanent pollution: a glimpse of what's to come for us all."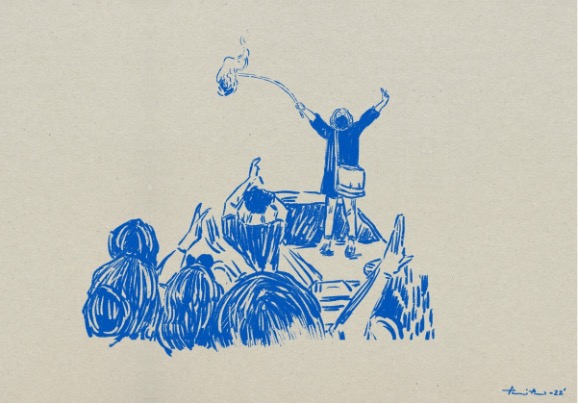 Pariplab Chakraborty, "An Artist's Tribute to the Iranian Women's Revolution", The Wire
The Wire's illustrator pays tribute to the bravery of women in Iran in the face of state repression.
Nitish Gogoi and S. S. Sumesh, "Environmental Injustice and Public Health in India", Economic and Political Weekly
This article examines the current inadequacy of environmental policies in protecting the ecology and health of the public, especially among the socially marginalised sections in India and argues for a "decolonial intersectional environmental justice" approach in framing and implementing inclusive environmental policies in India.